The first few years lay the foundation for the rest of a child's life. A baby's brain grows faster during these years than any other time in life, reaching 85 percent of their adult size by age 3. The lessons young children learn from their environments have a lifelong impact, affecting everything from life expectancy to earning potential.
That is why Advocates for Children of New Jersey (ACNJ) is leading the statewide effort to put "birth-to-3" on the public agenda and bring attention to what infants and toddlers need to thrive:
Strong Families
Healthy Starts
Positive Early Learning Environments
What are people saying about the issues?
Strolling Thunder NJ 2018 was a success! Watch video of the rally with babies at the Statehouse.
Sen. Cory Booker with Steve Adubato Discusses How Children Must be made a Higher Priority.
ACNJ is a lead partner in New Jersey's Right from the Start campaign and a proud partner of the national ZERO TO THREE Think Babies campaign, working to promote enriching early experiences and a strong foundation for development from the start. Read about our partners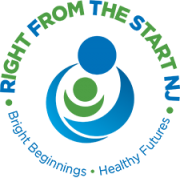 RightFromTheStartNJ.org
Learn more about the critical importance of the early years of child development, from birth to three.