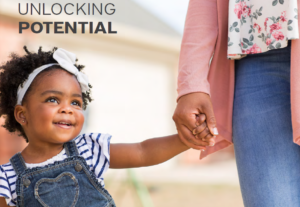 In order to give all children a strong and equitable start in life, New Jersey must begin with an intentional focus on eliminating racial inequities and disparities in access to essential supports, according to a new report, Unlocking Potential, released today by Advocates for Children of New Jersey (ACNJ).
Read Unlocking Potential, A Roadmap to Making New Jersey the Safest, Healthiest and Most Supportive Place to Give Birth and Raise a Family
The statewide plan, funded by the Pritzker Children's Initiative (PCI), provides the action steps needed to achieve concrete targets related to early childhood development with the goal of ensuring an additional 25 percent of low-income infants and toddlers - 27,000 young children - will have access to high-quality services by 2023. These supports include access to quality child care, home visiting, health and mental health services.
Unlocking Potential is based on the belief that we all have a role to play in achieving equity and that supporting equal opportunities at the start of a child's life is the first step in eliminating disparities that impact outcomes for babies, families and communities. The foundation for change is in place; the opportunity is now!