Today, Governor Murphy signed the Thriving by Three Act, which includes bills S2476 and A4179, into law. With widespread support, this legislation passed unanimously in both houses. Special thanks to our early childhood champions Senate Majority Leader M. Teresa Ruiz and Assembly Speaker Craig Coughlin, who were the bill's main sponsors. This legislation will:
bring long-awaited relief to some parents who need child care for their babies to return to work;
help providers struggling to find staff to care for infants and toddlers who need care; and
be key to New Jersey's economic recovery.
In addition, Governor Murphy signed into law New Jersey's first Young Child Tax Credit (Bill S2523), led by the New Jersey Policy Perspective, which would give families up to $500 per child under age 6.
Read more about today's legislative actions:
Today's win is a culmination of months and years of persistent advocacy. We want to send a heartfelt thank you to our parents and child care providers who have taken the time to contact their local lawmakers, testify at legislative committee hearings, write to their community newspapers and spread the word about giving families a strong start!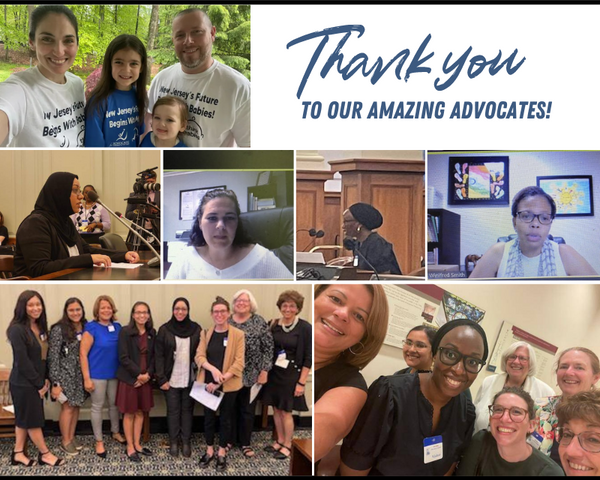 GREAT NEWS. The Thriving by Three Act has passed! 
Thank you Governor and our legislative champions:
Primary Sponsor:
Ruiz, M. Teresa
Vitale, Joseph F.
Coughlin, Craig J.
Jasey, Mila M.
Sumter, Shavonda E.
Quijano, Annette
Co-Sponsor:
Cruz-Perez, Nilsa I.
Cryan, Joseph P.
Cunningham, Sandra B.
Stanfield, Jean
Turner, Shirley K.
Zwicker, Andrew
O'Scanlon, Declan J., Jr.
Pou, Nellie
McKnight, Angela V.
Benson, Daniel R.
Reynolds-Jackson, Verlina
Park, Ellen J.
Mosquera, Gabriela M.
Wimberly, Benjie E.
Jimenez, Angelica M.
Lopez, Yvonne
Swain, Lisa
Moen, William F., Jr.
Pintor Marin, Eliana
Lampitt, Pamela R.