In New Jersey, 66% of babies have all parents in the workforce, meaning that more than 207,000 infants and toddlers depend on some type of child care.
No Room For Babies
Licensed centers only have the capacity to serve 27% of these babies, leaving more than 150,000 without the option of center-based care.
Infant-Toddler Child Care Shortage
About 40% of NJ municipalities, particularly urban and rural communities, are considered "deserts" due to the lack of child care for babies.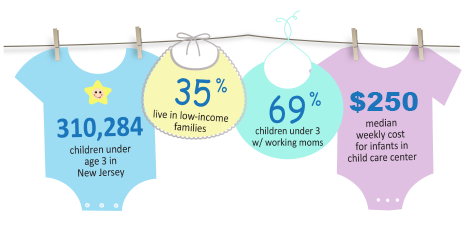 Quality child care, a child's first formal educational experience, feeds a baby's rapidly growing brain. During these early years, studies show, high‐quality child care improves language, mental health and social‐emotional development, all contributing to later school success.
Safe, stable and nurturing child care also helps parents work, strengthening the economic health of our families, our neighborhoods and the state.
Campaign Priorities
Help bring attention to what babies need to thrive: strong families, healthy starts and positive early learning experiences.
Campaign partners helping to make New Jersey babies a state  priority!