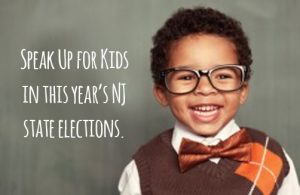 New Jersey's 2017 election races for governor and legislature represent a critical opportunity to engage with candidates and put kids' issues at the forefront of their agenda. Children can't vote. They have no political influence. That's why we need caring people like you to speak up for kids and make their needs heard.
Interested in partnering with us? Contact Mary Coogan at mcoogan@acnj.org.
Our Priorities
Improving outcomes for children requires a willingness to make meaningful investments that put kids first. What state leaders can do:
Invest in quality child care and expand high-quality preschool to reach more children in low-income communities
Prevent childhood lead poisoning before it starts
Fund community alternatives and treatment instead of locking up troubled youth
Save the Date
As part our election advocacy campaign, ACNJ will be hosting its first Children's Summit on Tuesday, September 12th. Mark your calendar! Details to coming soon.

VIDEO: NJ gubernatorial candidates share their agenda. Find out how they plan to make kids a priority!
Click here for the 2017 Election Governor Candidates Social Media Contact.
###
For nearly four decades, Advocates for Children of New Jersey (ACNJ) has been the trusted, independent voice for children across the Garden State. ACNJ is non-partisan and accepts no state funding for advocacy, giving us the freedom to speak up for children who have no voice and no vote. Our only agenda is putting the needs of children first.