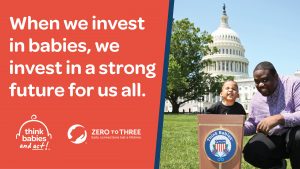 Join ZERO TO THREE and partners across the country TODAY to tell Senators to Think Babies and Act!™ when funding programs for babies and families.
The Senate is making big decisions on the budget next week that will have a major impact on whether babies and families receive the resources and supports they need to thrive. When the Senate Appropriations Subcommittee on Labor, Health and Human Services, and Education marks up their FY19 Appropriations bill during the week of June 25, we want them to ensure that American families and babies have access to quality child care, early intervention services, nutritious foods, and other critical supports that help babies get off to a strong start.
Be a Big Voice for Little Kids™ and join us today. Here's how you can take action:
1. Tell your Senators to #ThinkBabiesAndAct on Twitter. Use their Tell Congress Tool to easily send them a message.
2. Not on Twitter? Click here to send an email to your Senators asking them to #ThinkBabiesAndAct when making budget decisions.
3. Promote the Think Babies and Act! Day of Action. Join ACNJ on social media, share our posts and encourage your networks to participate.   Follow us on Facebook and Twitter.