Good data drives smart decisions. That is the goal of New Jersey Kids Count, part of the national KIDS COUNT© network. This state-by-state effort, spearheaded by the Annie E. Casey Foundation, provides comprehensive data about child well-being to policymakers, advocates, grant-makers and the public to help inform critical decisions for children and families.
NJ Kids Count data is also available in an interactive, online format through the Annie E. Casey Foundation's Kids Count database. There, you can create charts, graphs and maps, as well as accessing raw data in the following areas:
For more information about the New Jersey Kids Count project, contact Alana Vega, ACNJ's Kids Count coordinator, at avega@acnj.org or (973) 643-3876.
—————————————————————————————————–

NJ Kids Count Reports
State Reports
County Profiles
County Pocket Guide
Newark
Paterson
NJ Special Kids Count Reports
---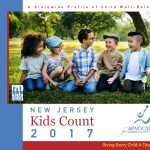 New Jersey Kids Count 2017, The St ate of Child Wellbeing
---
New Jersey Kids Count 2016, The State of Child Wellbeing
For copies of past Kids Count reports email Alana Vega at avega@acnj.org.