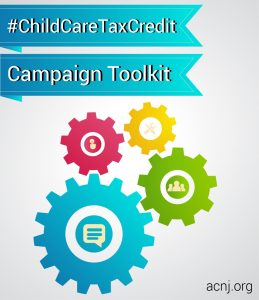 Help keep the momentum. Share our Child Care Tax Credit Campaign Tool Kit.  
Many New Jersey families spend a staggering quarter of earnings on child care. Low-income families spend even more — almost half. When you factor in New Jersey's sky-high living costs, many working parents are forced to choose between giving their kids quality child care or putting food on the table.
Proposed legislation, S-1453/A-331, would bring relief to struggling parents, helping them to afford the quality care crucial to a young child's growth and development.
Sign the petition today to support a NJ child care tax credit.
Share the campaign tool kit with your colleagues, family and friends.
See how ACNJ and others celebrated Week of the Young Child.
ACNJ ends Week of the Young Child with focus on healthy kids.