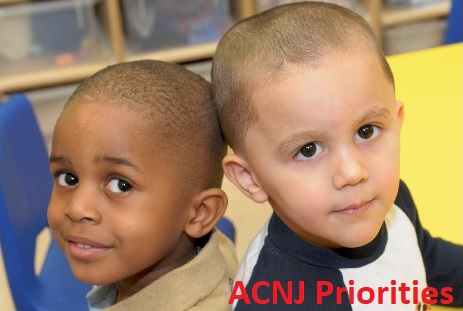 Child Protection
Keeping children safe from abuse and neglect and ensuring that all children grow up in stable families have been a cornerstone of ACNJ's efforts for more than 30 years. We work with state officials, local agencies and other advocates to build a more effective child protection and abuse prevention system throughout New Jersey.
Early Learning
ACNJ has been the state's leading champion of high-quality preschool and child care for children throughout the state. These programs are proven to prepare children for kindergarten and help them succeed in school. Building on this foundation of successful preschool, ACNJ also works closely with school districts to continue that quality early learning through 3rd grade.
Family Economic Success
When parents are unable to feed, clothe and house their kids, children suffer. ACNJ advocates for programs that support low-income, working families so they can raise their children to become productive citizens.
Child Health
Children with health insurance are more likely to receive the preventive care they need to grow up healthy. ACNJ's efforts have resulted in thousands of children receiving health coverage. We also work to ensure all children receive early dental care — a foundation of lifelong health.
Juvenile Justice
When youth become involved in the juvenile justice system, their future prospects dim. We work with state and local leaders to keep children out of trouble and on the path to productive adulthood.
Children's Legal Rights
ACNJ's NJ KidLaw is the leading source of information about the legal rights of children in New Jersey. Each year, we educate thousands of people through our website, www.kidlaw.org, trainings and responding to calls from people concerned over a child's well-being.