What are people saying about the issues?
Strolling Thunder NJ 2018 was a success! Watch video of the rally with babies at the Statehouse.
Sen. Cory Booker with Steve Adubato Discusses How Children Must be made a Higher Priority.
ACNJ is a lead partner in New Jersey's Right from the Start campaign and a proud partner of the national ZERO TO THREE Think Babies campaign, working to promote enriching early experiences and a strong foundation for development from the start. Read about our partners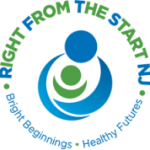 RightFromTheStartNJ.org
Learn more about the critical importance of the early years of child development, from birth to three.