Child care is everyone's business!
Children need safe, nurturing and enriching environments where they can grow and learn while their parents work. Parents need affordable, reliable child care so they can be productive employees. And, employers need staff who come to work with peace of mind, knowing their children are safe and happy.
That's why child care is everyone's business.
Read Our Latest Reports
Expensive, Frustrating and Scary: Parents Reveal the Realities of Finding Child Care for Babies This report summarizes the challenges of finding safe, reliable, and affordable quality child care for infant-toddlers shared by parents in a series of focus groups and interviews.
Quality Costs How Much?! Estimating the Cost of Quality Child Care in New Jersey To determine what it would cost to ensure all children are cared for in high‐quality child care settings, Advocates for Children of New Jersey (ACNJ) teamed up with national early childhood financing expert Anne Mitchell to conduct a cost-estimation study using real budgets and cost data from NJ child care providers early care and education stakeholders.
Read ACNJ's recommendations to support quality child care. 
No Room for Babies: Center-based Infant-Toddler Child Care in Short Supply
Finding safe, reliable and affordable high-quality child care is a challenge for many working parents. This report reveals the deep shortage of options for New Jersey's very young children. Read the full report
View an interactive map of NJ's licensed child care centers that provide infant-toddler care in New Jersey.  The map allows a view of centers participating in Grow NJ Kids, NJ's child care rating and improvement system.
Download State and County fact sheets
Federal support needed to implement child care health and safety standards
On the federal level, ACNJ continues to work with our Congressional delegation to ensure adequate funding of the Child Care and Development Block Grant of 2014, which promised to strengthen child care health and safety standards, mandate new training for child care providers and ensure equal access to quality.
While the new standards are a win for kids, adequate funding is needed for states to implement these improvements. So far, Congress has not yet authorized additional funding. In 2016, this affected 59,000 NJ kids in low-income, working families. We need to stand together to urge our elected officials to increase funding for this critical service for our youngest children.
What is the State of New Jersey doing to improve child care quality?
New Jersey has an initiative, Grow NJ Kids, aimed at giving working parents more information when making one of the most important decisions of their children's lives — who will care for their kids during their most formative years. It also promises to help child care providers to improve quality through a variety of supports.
As a lead partner in New Jersey's Right from the Start campaign and a proud partner of the national ZERO TO THREE Think Babies campaign, ACNJ is working to promote enriching early experiences and a strong foundation for development from the start. Read about our partners.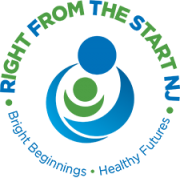 RightFromTheStartNJ.org
Learn more about the critical importance of the early years of child development, from birth to three.