Posted on September 22, 2016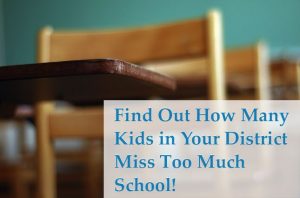 Click here to find out if your school district is on the "high-absenteeism" list.
In honor of Attendance Awareness Month, we encourage school districts, community members, and parents to recognize the important of making every day count.
Many districts accross the state are working hard to help reverse this trend.  View a video on how a Trenton middle school tackled chronic absenteeism.
Read the report and see what districts have "high-absenteeism" rates by county.
View pictures of the report release event.
Read in the news: These are the factors behind chronic absenteeism in New Jersey, NJTV