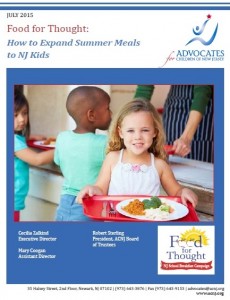 This latest report by Advocates for Children of New Jersey and the Food for Thought campaign shines a spotlight on the tens of thousands of children who eat meals at school and lack access to healthy meals in the summer across New Jersey.
In 2014, New Jersey's summer meals programs reached only 19 percent of the children who received free- or reduced-price school lunch in the 2014-15 school year while the national Food Research and Action Center (FRAC) recommends that states serve at least 40 percent of these low-income children.
Hunger doesn't stop when school is out.  Let's ensure that all NJ children have the nutrition they need to grow and be healthy during the summer.