Starting Off Strong
A baby's brain develops rapidly during the first three years of life, laying the foundation for later learning. Early relationships, environments and experiences set the stage for what happens in life. Good experiences supports healthy growth and development. Family instability, poverty, poor health care and low-quality early learning environments can adversely impact long-term health and development.
ACNJ is gearing its advocacy efforts to ensure New Jersey supports strong families, babies get healthy starts and are cared for in positive early learning environments. Here are some of the challenges babies in New Jersey are facing:
Paid Family Leave
Home Visitation
Infant Emotional Health and Well-Being
Read our latest reports
Protecting Infants and Toddlers: A Five-Year Review  In 2012, Advocates for Children of New Jersey (ACNJ) published a brief, The Littlest Victims: Protecting Babies from Abuse and Neglect, which examined policy and practice for young children under the care of the state child protection system. This latest update finds that much has changed.
No Room for Babies: Center-based Infant-Toddler Child Care in Short Supply  Finding safe, reliable and affordable high-quality child care is a challenge for many working parents. This report reveals the deep shortage of options for New Jersey's very young children.
Read the full report and view an interactive map of NJ's licensed child care centers that provide infant-toddler care in New Jersey.  The map allows a view of centers participating in Grow NJ Kids, NJ's child care rating and improvement system.
Download State and County fact sheets
Infant/Toddler Videos
As a lead partner in New Jersey's Right from the Start campaign and a proud partner of the national ZERO TO THREE Think Babies campaign, ACNJ is working to promote enriching early experiences and a strong foundation for development from the start. Read about our partners.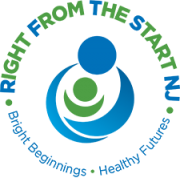 RightFromTheStartNJ.org
Learn more about the critical importance of the early years of child development, from birth to three.