Late last week, legislative leaders Senate President Steve Sweeney and Assembly Speaker Vincent Prieto announced a deal that would add $125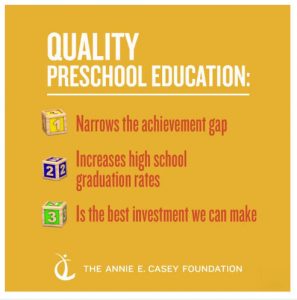 million in state aid for public education to the proposed state budget which includes $25 million for preschool expansion!
This is a long overdue step in putting young children first by providing more 3- and 4-year olds with a strong educational foundation for kindergarten and beyond.
But it's not a done deal…….
The next step is for both the Senate and Assembly to vote on this budget. It is critical that your state legislators hear that YOU support the $25 million included in the budget to expand preschool.
Send a message to your state senator and BOTH Assembly members today.
If you have another minute, please thank Senate President Sweeney and Speaker Prieto for including funding preschool expansion in the proposed budget.
They can be reached at by email or phone at:
Sample script:
Hello, my name is (your name) and I'm from (your town). I'm calling to express my thanks and support for the $25 million in preschool expansion funds added to the proposed state budget. Their leadership demonstrates a strong commitment to providing more children with quality early learning, giving kids the skills necessary to be successful in school and in life.
If you have any questions, please contact Cynthia Rice at 973-643-3876 or at crice@acnj.org.