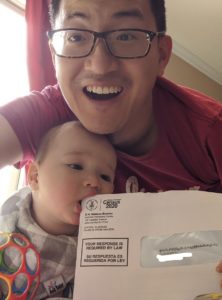 Join us in advocating for a complete count this #2020Census! Challenge your friends and family to complete their questionnaires and take a #CensusSelfie:
Take a photo of yourself completing your Census (make sure not to include your address or Census ID!).
Post the photo to social media and tell us why you completed your Census! Make sure you use the hashtag #Census2020NJ and tag @acnjforkids. Here are some messages to include with your selfie:
I completed my #2020Census because we need fair funding for our hospitals, now more than ever. #Census2020NJ @acnjforkids
My children deserve 10 years worth of well-funded schools! Join me in taking the #CensusSelfie Challenge and fill out your form! #Census2020NJ @acnjforkids
 Completing your Census has never been easier! Fill it out online at 2020census.gov, call 844-330-2020, or mail it out. Visit census2020nj.org for more information on how you can help! #Census2020NJ @acnjforkids
3. Tag five friends and challenge them to fill out their Census today!
Want to take it a step further? Make your #CensusSelfie your Facebook profile picture and use our Census frame to let everyone in your network know that you count!