Posted on August 15, 2022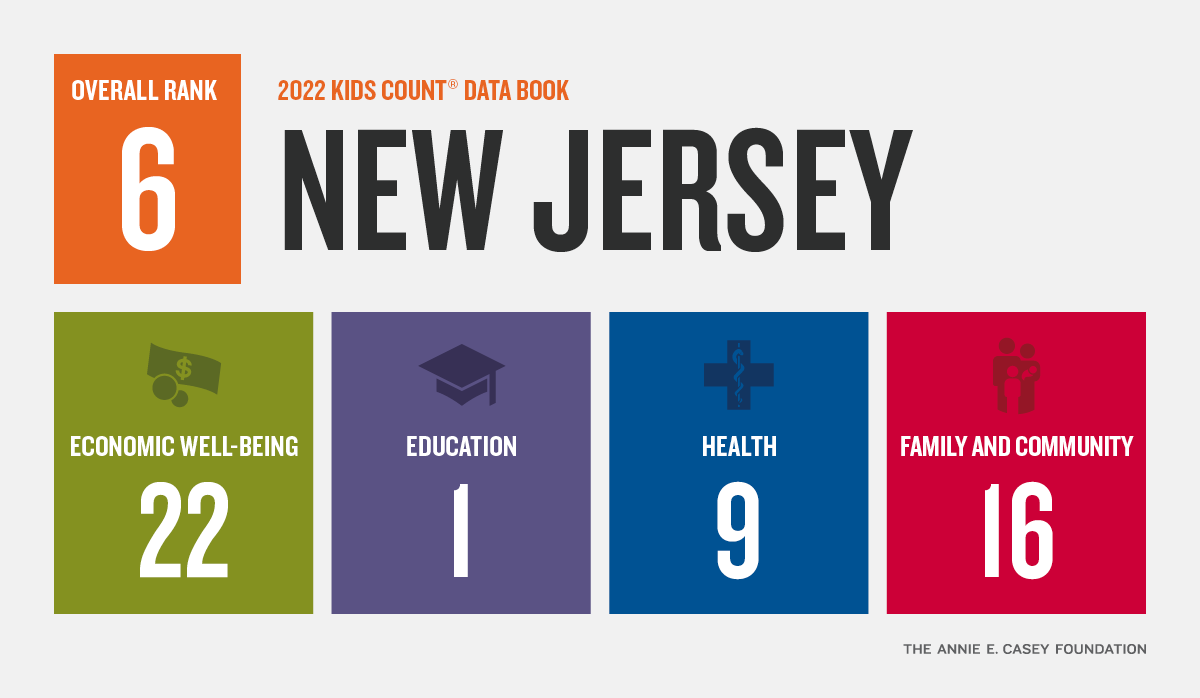 We're excited to partner with the Annie E. Casey Foundation for its 2022 KIDS COUNT Data Book release! In addition to key data updates, this year's report explores the effects of the pandemic and the child mental health crisis.
More than 10% of NJ Children Struggling with Mental Health Issues Since the Start of the Pandemic, Requiring Urgent Action
New report released by national nonprofit Annie E. Casey Foundation finds that almost 7.3 million children across the nation now struggle with anxiety or depression
New Jersey maintains its strong reputation related to education, health, and family and community, ranking sixth in the nation for child health and well-being, according to the 2022 KIDS COUNT® Data Book, a 50-state report of recent household data developed by the Annie E. Casey Foundation. However, children in America, including New Jersey, are in the midst of a mental health crisis, struggling with anxiety and depression at unprecedented levels. For the first time, this annual resource focuses on youth mental health, concurring with a recent assessment by U.S. surgeon general that conditions amount to a youth "mental health pandemic."
The report sheds light on the health, economic and other challenges affecting American children as well as how those challenges are more likely to affect children of color.
In New Jersey, nearly 168,000 children, or 10.7%, were struggling with anxiety and depression in 2020. This is up from 7.6% of children, or more than 130,000, in 2016. In order to address this growing problem, the state's recently passed FY2023 budget includes $50 million in federal dollars to strengthen youth mental health supports. In addition, a new federal- and state-supported mental health hotline, 9-8-8, recently launched, connecting individuals to a network of trained crisis counselors.
"Though we are encouraged to see that the state's budget has allocated federal dollars toward strengthening youth mental health programs, more must be done. The pandemic has had a profound effect on the mental state of New Jersey's children," said Cecilia Zalkind, president and CEO of Advocates for Children of New Jersey (ACNJ), a statewide nonprofit that works with local, state and federal leaders to identify and implement changes that will benefit New Jersey's children. "Regularly, we hear the struggles of families and children who are combating anxiety and depression caused and magnified by a global crisis. Programs such as mental health services play a critical role in moving the state forward past COVID-19, but we need to do more to address the shortage of providers for mental health services."
The Data Book reports that children across America, and in more than 40 states and the District of Columbia, were more likely to encounter anxiety or depression during the first year of the COVID-19 crisis than previously, with the national figure jumping 26%, from 9.4% of children ages 3-17 (5.8 million kids) to 11.8% (7.3 million) between 2016 and 2020, the year COVID-19 swept across the United States. This increase represents 1.5 million more children who are struggling to make it through the day.