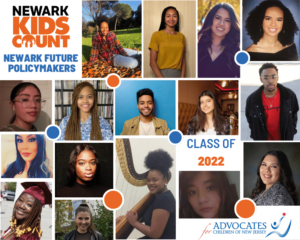 In February 2022, ACNJ began its Newark Future Policymakers Advocacy Training program. Leaders of the program worked alongside 17 talented young people who live, work or go to school in the City of Newark. After several months of learning sessions, these Future Policymakers worked in groups to identify policies to improve the lives of Newark residents. Each group presented their ideas on a variety of topics to a panel of esteemed speakers in a final symposium. Presentation topics included:
Cultivating stronger relationships between students and teachers,

Improving financial literacy skills among Newark students through K-12 curriculum,

Addressing food insecurity through stronger partnerships with local corner stores, and

Using New Jersey's Environmental Justice bill to prevent the expansion of a gas power plant in Newark.
Three young people from this year's cohort - Michelle Hunter, Jennymarie Idrobo and Nia Pierce - will continue on at ACNJ over the summer to develop the topic for the special section of this year's Newark Kids Count report, research it and write the section.
This program was funded through the generous support of the Victoria Foundation and the Prudential Foundation. The vision and direction of the project would not have been possible without the expertise of Kaleena Berryman, as well assistance from Jennifer Made and Barry Ford. If you would like to learn more about the program, or are interested in being a part of the Future Policymakers Class of 2023, contact Alana Vega, avega@acnj.org.