Posted on October 8, 2020
Voting in the 2020 election is already happening across New Jersey right now! With voting by mail available to all New Jersey voters, casting your ballot is easier than ever before.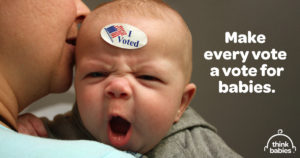 Children can't vote, so we need to make sure their issues are represented in the election. In addition to the Presidential election, New Jersey is also holding elections for all our House Representatives, one of our Senators, and many county and local officials.
Information on New Jersey's upcoming election can be found at the NJ Secretary of State's 2020 Elections #NJVotes website.
Important Information
Register to vote online or apply with a paper application with your county election office, if you haven't already. Voter registration closes on October 13, 2020.
How to fill out your mail-in ballot - if you have received a mail-in ballot, remember to VOTE, SIGN, SEAL, and RETURN. For instructions in Spanish, click here).
Find a Secure Ballot Drop Box near you. Boxes are open 24 hrs/day, monitored by security cameras, and collected daily by county election officials.
Track the status of your mail-in ballot, after you have voted.
Find your local polling place, if you plan on voting in-person, as the location may have changed.
Thank you so much for being a voter! New Jersey's kids are counting on you!