Posted on January 21, 2021
Help increase maternal health awareness for all residents of the state including providers of women's healthcare services, the general public, legislators, expectant parents, insurance company executives and other interested parties. During the pandemic, maternity care services continue to be altered based on frequently changing safety protocols. Helping expectant parents learn the relevant and timely questions to ask and tools to navigate to foster community become that much more essential to amplify.
Each day beginning Jan 23 through Jan 30, 2021, we will have a social media post for you to share. Posts can be shared by either downloading the content directly from this toolkit or simply sharing from one of our partners. Use the hashtags #123ForMOMS #NJMaternalHealth to follow along and share/retweet posts highlighting resources, programs and information.
Partners: 
ACNJ: @acnjforkids (Facebook/Twitter/Instagram)
NJAEYC: @NJAEYC (Facebook/Twitter)
NJ-AIMH: @NJAIMH (Facebook/Twitter)
MSU CAECMH: @montclairstatecaecmh (Facebook)
CITE: @Coalition.Infant.Toddler.Educators (Facebook), @CITEprez (Twitter)
SPAN: @parentadvocacynetwork (Facebook), @SPANadvocacy (Twitter), @spanadvocacy (Instagram)
NJ Breastfeeding Coalition: @New Jersey Breastfeeding Coalition (Facebook), @NJBFCoalition (Twitter)
Nurture NJ: @FirstLadyNJ (Facebook/Twitter), @firstladynewjersey (Instagram)
MelinatedMoms: @melinatedmoms (Facebook/Twitter/Instagram)
DAILY SAMPLE POSTS
Saturday, January 23, 2021:
It's #MaternalHealth Awareness Week! Too often, #maternitycare women and families in not being accessible, safe, equitable or affordable. #123forMOMS was created in memory of Tara + all others who die from causes related to childbirth. Watch her story: https://www.youtube.com/watch?v=hxznMy-Y0Xg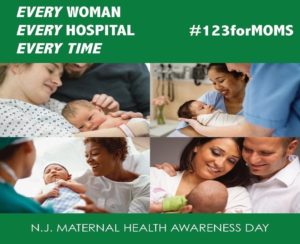 Sunday, January 24, 2021:
STOP! LOOK! LISTEN! Safety Campaign in #NewJersey helps pregnant moms and their loved ones in addressing maternal health and safety. Encourages women and families to speak up if they feel something is wrong – and providers, to take heed of those concerns.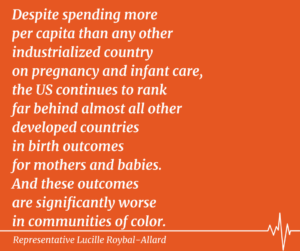 Monday, January 25, 2021:
Today at 10am, the #NJ First Lady will be unveiling the #NurtureNJ Maternal and Infant Health Statewide Strategic Plan, a roadmap to make New Jersey the safest and most equitable place in the nation to deliver and raise a baby. Watch LIVE on the Office of the Governor's Youtube channel: https://www.youtube.com/channel/UCH8YwF0eRl9E5lpGj8OaiLg
Tuesday, January 26, 2021:
Day 4 of #123ForMOMS—Focus on Prenatal Preparation for Expectant Parents–Take a look at this terrific toolkit to get questions for health care providers and places of birth that was composed by the @MarchOfDimes. Expectant families have loved this birth plan that is designed for this moment: https://www.marchofdimes.org/materials/March-of-Dimes-Birth-Plan-2020.pdf
Day 4 of #123ForMoms: Focus on Prenatal Preparation for Expectant Parents–There are six evidence based care practices that support a safe and healthy birth, and one of them is letting labor begin on it's own. Did you know most pregnancies lasts 38-42 weeks? The natural start of labor usually means your body and your baby are ready for birth. Learn more at: https://www.lamaze.org/Parents
Wednesday, January 27, 2021:
Day 5 of #123ForMoms. Check out this online tool to support equity and focus on shared decision-making: "Protecting Your Birth: A Guide For Black Mothers-How racism can impact your pre- and postnatal care — and advice for speaking to your Ob-Gyn about it." https://www.nytimes.com/article/black-mothers-birth.html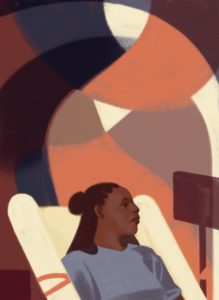 Thursday, January 28, 2021:

Healthy social-emotional growth begins right from the start. Babies require lots of back-and-forth gestures and conversations. Peek-a-Boo, This Little Piggy or games that come from your own family and culture, help babies grow!
https://newmomhealth.com/
Friday, January 29, 2021:

Day 7 of #123ForMoms: Learn more about organizations working to focus on Black maternal health nationally:
https://www.sistersong.net/reproductive-justice/
https://blackmamasmatter.org/about/
https://www.showingupforracialjustice.org/
Saturday, January 30, 2021:
Day 8 of #123ForMOMS: Are you expecting? Central Intake is a county-based single point of entry system for referrals to community resources, medical care, home visiting programs, Healthy Women Healthy Families, Doula Programs, and social support agencies. https://www.nj.gov/health/fhs/maternalchild/outcomes/

Sunday, January 31, 2021:
Day 9 of #123ForMOMS—Keep this tool printed on your refrigerator: Post Birth Warning Signs for families and women. The script provides wording to help communicate symptoms and the essential need to being heard. Available in many languages: https://www.awhonn.org/education/hospital-products/post-birth-warning-signs-education-program/