Goal: All working parents can afford to take dedicated time to bond with their babies.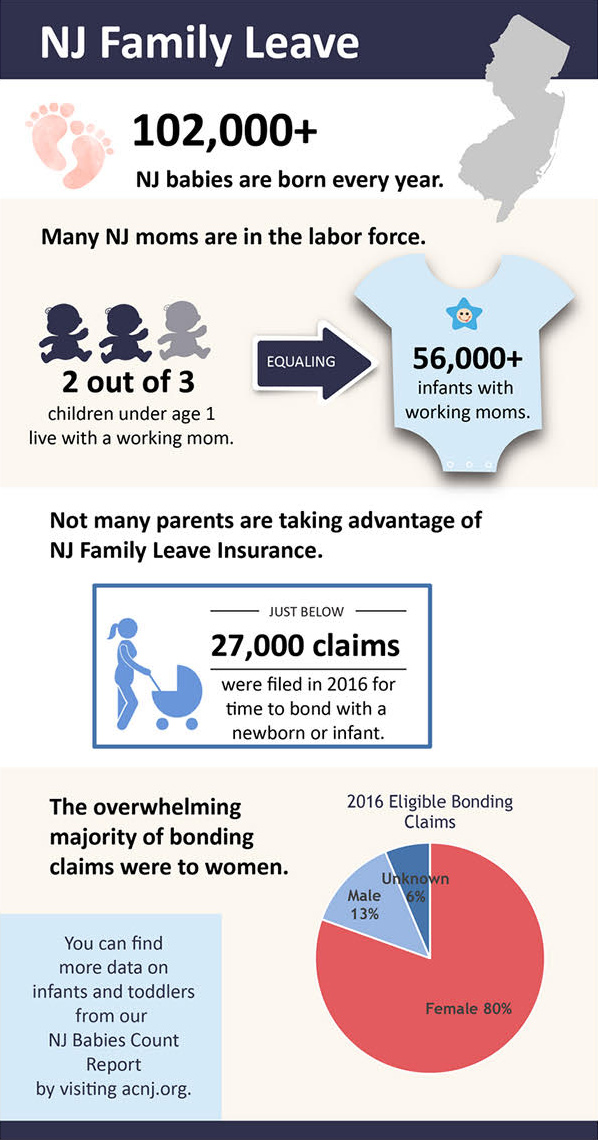 New Jersey's expanded paid family leave program allows working parents to spend more time caring for their newborn during a critical bonding period without a complete loss of wages.
The time parents spend at home with their children to bond fosters a nurturing relationship that allows for healthy growth and development. The availability of paid leave for both parents is also associated with improved outcomes, including lower rates of infant mortality, lower rates of postpartum depression and higher rates of doctors' wellness check‐ups.
Paid Family Leave in New Jersey
New Jersey is one of the few states that offers a paid family leave program, called Family Leave Insurance (FLI). As of July 1, 2020, FLI allows for 12 weeks of paid leave at 85 percent of salary, with a maximum of $881/week. Workers at businesses with 30 or more employees are protected from firing or demotion for taking time off to care for their children under the NJ Family Leave Act (FLA).
The Differences Between FLI, FLA and FMLA
FLI - NJ Family Leave Insurance. This is your wage replacement when you take paid family leave to bond with your child.

FLA - NJ Family Leave Act. This ensures that your employer places you in the same or a similar job when you return to work after taking family leave to bond with your child.

FMLA - Family Medical Leave Act. This is a Federal law that ensures that you are restored to the same or an equivalent job when you return from taking family leave due to pregnancy. FMLA does not offer wage replacement.
A more inclusive and effective FLI program has the potential to make New Jersey families stronger, healthier and more economically secure, but only if parents take advantage of it! Help spread the word about taking advantage of paid family leave!
Campaign Priorities
Help bring attention to what babies need to thrive: strong families, healthy starts and positive early learning experiences.
Sorry, we couldn't find any posts. Please try a different search.