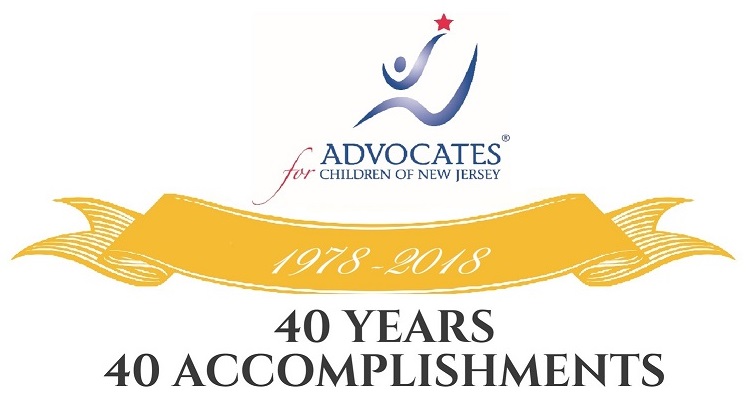 Join ACNJ for a walk down memory lane!
Our Roots in Protecting Children

ACNJ grew out of some of the earliest efforts in New Jersey to protect abused and abandoned children and is part of an evolution that began in 1847, when the Newark Orphan Asylum was established. Other organizations in our history included the Protestant Foster Home Society, Boys Lodging Home and the Home for the Friendless.

ACNJ is Born, A Voice for New Jersey Children

Over the years, other organizations emerged to care for orphans, children living in foster care and children in troubled families. In 1978, two of those groups – the Citizens Committee for Children and Child Service Association – merged to form the Association for Children of New Jersey. By becoming a voice for children in the political landscape, they aimed to have a broader impact on all New Jersey children.  (The name changed in July 2010).
The following are notable legislation, reports, policies and programs resulting from ACNJ's efforts.  Notable accomplishments are designated with a star.
New Jersey passes the Child Placement Review Act

The Child Placement Review Act works to oversee children in foster care, allowing the review of individual cases of children placed outside of their homes to ensure safety. The law was enacted prior to the federal government requiring the independent review of cases involving children in foster care. New Jersey was the second state to mandate such reviews.

"Children in Detention and Shelter Care: Surveying the System in New Jersey" is published

ACNJ's study examined the characteristics of children between the ages of 6 and 17 years placed in 42 New Jersey detention facilities, juveniles in need of supervision (JINS) shelters, and children's shelters, and included recommendations for system improvements.

Child Care Center Licensing Act is passed

New Jersey was the first state to set standards for child care centers. This Act allows for the licensure of certain public and private child care centers, and the inspection and examination of the centers to ensure they are up to code.

Through The Safety Net: A Citizen's Report On N.J. Children And Families In Need released

This report highlighted the struggles of thousands of parents trying to provide basic needs for food, shelter, clothing and medical care for their children through interviews and state statistics. Though the report does not contain recommendations, "The facts in this report, we believe, speak for themselves."

Juvenile Justice Code is revised

This significant revision of New Jersey statute allowed a wide array of dispositions for youth, while providing harsher penalties for those who commit serious offenses. That same year, the Family Court was created, allowing for uniformity of sentencing and a court system to deal with the entire family and not just the youth offender.

New Jersey passes the Family Day Care Registration Act

New Jersey was the first state to set standards for people providing child care in their homes. This Act was meant "to provide for the protection of children through the... [voluntary] registration of family day care providers and making an appropriation...."

The New Jersey Child Health Month Committee is formed

The late Dr. John W. Alexander, former Chief of Staff of the Children's Hospital in Newark, co-founded the committee of statewide professionals, with a vision and belief that children can and will internalize health and safety knowledge when they participate in and develop activities that promote their well-being. For 25 years, ACNJ led this committee and provided resources and trained thousands of teachers, nurses and other professionals to do that.

State establishes Catastrophic Illness in Children Relief Fund

This fund is a financial assistance program that helps New Jersey families struggling to pay medical bills for children with a catastrophic illness or condition, acute or chronic, that are not fully covered by insurance, state, federal programs, or other sources.

Publication of the Pro Bono Attorney's Manual

This resource was prepared to assist attorneys assigned to cases in the areas of child abuse/neglect and termination of parental rights. Now called the Attorney Manual for Child Welfare Cases, it has been used to train hundreds of lawyers and judges across the state, ensuring children are better represented.

Initial publication of "You Have the Right! Your Rights as a Young Person in New Jersey"

Last updated in 2001, more than 50,000 copies have been distributed.

First annual "NJ Kids Count" report is published

"NJ Kids Count" became ACNJ's signature publication and has been later supplemented by Kids Count reports on counties and the state's largest cities. These reports are the go-to source for data on children and families.

Bike Helmet Law is passed

New Jersey became the first state in the nation to require bicycle helmets for children under the age of 14. In five years, the law helped to reduce bike-related fatalities by 60%. Later, in August 1998, the law was extended to children under 17 years and expanded to include skateboards and roller skates.

The Child Placement Bill of Rights becomes state law

This Bill of Rights established independent rights for children in foster care.

ACNJ establishes the Children's Legal Resource Center (later renamed KidLaw Center)

The Children's Legal Resource Center was established with the goal of providing information on children and the law. Since then, it has responded to countless inquiries and provided training to thousands of service providers, professionals and advocates. KidLaw is now New Jersey's foremost online information resource on children's law, with publications, fact sheets, training manuals and other guides available free of charge.

"Stolen Futures" is published, documenting 115 cases from six Division of Youth and Family Services (DYFS) offices

The publication was awarded the Department of Health and Human Services' Private Sector Award.

ACNJ launches the Community Orientation Course

The goal of the course was to train child advocates in Trenton, Newark and Camden.

"The Court Assessment Project – Final Report" helps to enact improvements in the court system

The report was an assessment of the quality and timeliness of court decision-making in child welfare cases and was used by courts to improve the handling of DYFS cases.

ACNJ brings together the Early Care and Education Coalition

The Early Care and Education Coalition aimed to advocate for high quality preschool programs for New Jersey children.

ACNJ participates as "friend of the court" (amicus curiae) in landmark New Jersey Supreme Court school-equity decision

The Abbott v. Burke decision required 31 of the state's poorest school districts to provide universal, high-quality preschool to all 3- and 4-year-olds in their community. The court ruling embraced ACNJ's proposed preschool standards, acknowledged the value of its coalition and set the stage for New Jersey to become a national leader in preschool.

State Earned Income Tax Credit Act is enacted

The Earned Income Tax Credit (EITC) is a federal and state tax benefit for individuals and families who earn low-to moderate incomes in NJ. It is a tax credit that may reduce the amount of taxes one owes, or provide qualifying individuals with a refund.

ACNJ works with the American Civil Liberties Union (ACLU) to improve screening for lead poisoning

Working along with other advocates and New Jersey's Medicaid agency, ACNJ advocated for education and targeted outreach efforts to parents and medical professionals. Since then, the number of lead-poisoned children has declined dramatically.

New Jersey FamilyCare Act expands free- and low-cost insurance to low-income families

It now includes Medicaid and covers more than hundreds of thousands of children.

Kinship Legal Guardianship law officially acknowledges the importance of relative caregivers and their need for assistance

This law allows the legal guardian to have the same rights and responsibilities as a birth parent. In addition, certain individuals caring for their grandchildren, nieces, nephews and other children are able to receive financial assistance. ACNJ provided its expertise to a coalition of grandparents, social service agencies and other advocates in the designing and enacting of this law.

ACNJ joins and assumes a leadership role with the national BUILD Initiative

The focus of the national BUILD Initiative is to build and sustain comprehensive child development systems. Together with childhood leaders from Illinois, Minnesota and Ohio, ACNJ worked to develop a plan for early childhood systems-building in New Jersey and other states in the nation.

"DYFS in Crisis: A Series of Policy Briefs" informs the public and policymakers

In the wake of the tragic death of Faheem Williams, a 7-year-old boy from Newark who was known to DYFS and died while in the care of a relative, ACNJ acted as a resource of information and a voice for change. "DYFS in Crisis: A Series of Policy Briefs" helped guide ongoing reforms.

ACNJ publishes "I Can Make It!", a guide for older foster youth

The publication was followed by legal guides on special education, guardianship, the court process and foster families.

"Child Protection Data Report" tracks the state's progress in reforming the child welfare system

Special report examines administration of medication to children in child care programs

This report initiated training to help improve the practice.

The Transfer law is enacted

The Transfer law requires a seamless transfer of credits for students moving from 2-year to 4-year public colleges. This has been a significant help to preschool teachers in low-income districts and all community college students.

State approves expansion of full-day, state-funded preschool to all children from low-income families

While this was a major milestone, the new school funding formula was never fully funded and only four school districts received state funding to provide universal preschool.

ACNJ is at the forefront of an effort to enroll more children in NJ FamilyCare

NJ FamilyCare is the state's free- or low-cost child health coverage program. This resulted in tens of thousands of uninsured children receiving coverage.
Stay tuned! New accomplishments and milestones will be posted regularly leading up to ACNJ's third annual winter breakfast celebration, to be hosted on December 5, 2018 at the Clubhouse at Galloping Hill Golf Course in Kenilworth, NJ.